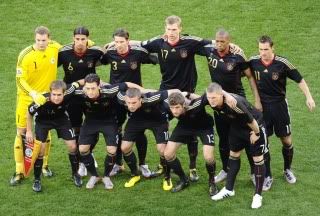 Next Monday, Jogi is set to announce who he will be taking with him to Euro 2012 in Poland and Ukraine.



Make your prediction of who he will take, feel free to explain your choices. Remember only 23! Here is my list:

Goalkeepers:
Manuel Neuer
Tim Wiese
Ron-Robert Zieler

Defenders:
Philipp Lahm
Per Mertesacker
Mats Hummels
Jerome Boateng
Holger Badstuber
Benedikt Hoewedes
Dennis Aogo
Marcel Schmelzer

Midfielders:
Bastian Scwheinsteiger
Mesut Oezil
Sami Khedira
Mario Goetze
Toni Kroos
Thomas Mueller
Lukas Podolski
Andre Schuerrle
Marco Reus
Lars Bender/Simon Rolfes

Strikers:
Mario Gomez
Miroslav Klose

I chose only two strikers, because really we only need these two but if something absolutely disastrous happens, Lukas, Andre and Thomas can all play as a striker too.

Ok, I know I cheated but I couldn't decide between Lars and Simon. We desperately need another good holding midfielder besides Schweini and Sami. Yes, Toni can play there but there still needs to be another back up. I like Simon because he can bring some leadership qualities to the midfield that has been desperately needed when Jogi puts out really young sides, like without Bastian, there is essentially no leadership in the middle of the pitch. However, I could also see him bringing in youngsters like Lars because I feel as though he tends to lean towards bring in young players to be groomed rather than older players.

Defenders were hard picking out the fullbacks, the centerbacks are obvious who the choices will be to me, but besides Philipp, I don't know where he will play or who will play opposite of him. I want him to play right back because he's been better there for Bayern but then left back is such a problem spot for Germany. If Philipp is on the right then, Marcel or Dennis can play there. I just really looking for a way to keep Christian Traesch out of the team because I don't like him, the way he plays and it should just not be him in the right back position to me. I know Jogi tried both Jerome and Benni in the right back position and he said that Philipp would play left back for Germany, that was a while ago and I think he'll change his mind after watching Philipp basically stop Christiano Ronaldo in the CL games against Real Madrid and who are we facing in our opening game?

So there is my team, what is yours? I can't decide yet on my starting 11 but add too that if you want/can.