Sami & The Sixth Sin: The DFB Feature Interview With Sami Khedira
Sami und der sechste Sinn:
Khedira im Porträt
LINK TO THE GERMAN
Translated by me,
jenny_jenkins



People who understand these things are not agreed on which football club is the biggest or grandest. Some are convinced it's Barcelona with its charismatic, beautiful playing that has elevated the game to an art-form. Others love the majestic splendour of Barcelona's eternal rival Real Madrid, and still others think that Manchester United or Bayern Munich should be most admired because they thrive as clubs that not only have world-wide following but are also solid business ventures.





Ask Sami Khedira however and the answer is clear: "Real Madrid es el mejor club del mundo" - Real Madrid is the best club in the world, obviously. As a cast member of the White Ballet Khedira is slightly biased, but after more than one and a half years in the Spanish capital he's long since been imbued with the club's spirit. He has found his calling in Madrid as a professional footballer. Not many were sure he could do it when he was transferred out of VfB Stuttgart in the summer of 2010. Many were sceptical he'd be able to establish himself in a celebrity-club.

Starter, Strategy & One of the Royals.

In 2010 Khedira had his coming out party on football's grand stage. Just before the tournament in 2010 began his national team coach entrusted him with a starting place in the midfield. Joachim Loew acted out of conviction: he'd always been an admirer - but he acted out of necessity too. Captain Michael Ballack was unable to play due to injury and other candidates for the position of defensive midfielder were not available. Thomas Hitzlsperger of Lazio was out of match practice, Simon Rolfes had just recovered from a complex injury. The one who remained to be Bastian Schweinsteiger's midfield partner was Sami Khedira. "If an opportunity arises, I shall make use of it" he noted sagely at the training camp in Sicily.


Sami with the National Team



That he seized his opportunity at the tournament is something the whole world witnessed. Khedira was not only a foil for the more aggressive Schweinsteiger, he added his own accents to the game. Aside from this strategy and talent he also put in the mileage, managing more kilometres a game in 90 minutes than many others manage in the same time with their bicycles (translator's note: on average 13 kilometres). Despite this exhausting pace he kept his calm and clarity, a quality that distinguished him in his early professional years and makes him the perfect number six.

Some Local Patriotism Remains

Khedira arrived at VfB when he was 8 years old - the chief club in his hometown. He is firmly convinced that they provided the best tuition in German football. "At VfB you can train with peace of mind," he once explained, "because everything is required from you. Technically, tactically and in terms of personal development." No other club has such successful graduates, he points out. From cosmopolitan Madrid he still clings to a bit of local pride.


Sami on a visit to the Mercedes Benz Arena in December



Among the experts observing this prodigy of German football in the summer of 2010 was a certain Jose Mourinho. Real Madrid had just hired the coach at great expense to break the dominance of FC Barcelona in Spain's first division. The Portuguese star coach had great respect for the Germans in South Africa. From Loew's starting 11 he picked out two who were to form the cornerstones of his new midfield. For Mesut Özil and Sami Khedira, Mourinho's interest was a special honour just on its own. Meanwhile they can feel themselves distinguished by their ability to adapt to meet the special requirements of the coach and of Spanish life.

A Fan of Mourinho

Khedira is a huge fan of the extremely stubborn but charismatic Portuguese - and the appreciation is mutual. Mourinho appreciates reliability and conscientiousness in his players. The coach's priorities for him were once described by Khedira as follows: "We have many brilliant offensive players. So my first task is to ensure that all is safe at the back and to contribute to the shape of the game."



Sami Khedira is one of 5 players at his club
to have scored in all 3 competitions this year



In nearly two years at Real Madrid, Khedira has seldom disappointed the expectations of his coach, which is why he keeps his starting place next to Xabi Alonso in the coach's grand plan. What is tactically required at Madrid is not so different from what is required on the national team. Xabi Alonso is the more offensive player, just as Schweinsteiger is, with one difference: that Real Madrid dominates its rivals in the Spanish league to such an extent that the defensive duo of Khedira/Alonso operates deep in the opposition half in many games.

Prefers to play rather than talk

This success did not fall into Khedira's lap. He was gifted nothing, had to continually fight to get his place back after breaks from injury and take the aesthetical criticism of the Spanish sports press. His relationship with the audience is good but hardly intimate. This is mainly because his role as efficient service provider does not allow him to shine in the same way as many of his more glittering companions: like Özil for example. In the meantime he's become accepted as a regular, and the experts have already come to correctly appreciate his special qualities.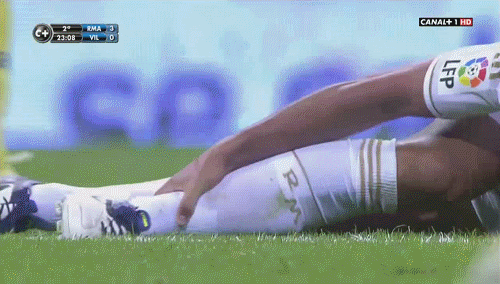 Sami has often been injured at Madrid but has played in
all but two games for which he was fit.



Lately the Spanish national coach Vincente del Bosque has been respectful of the role that the Germans play within the capital's club. There is "a good interaction" he said. "Khedira and Özil benefit from a strong Real Madrid, but Real Madrid is benefitting in turn from these two players." Khedira himself rarely speaks of life at Madrid. Interviews are not encouraged by the maestro: Mourinho prefers his professionals to play rather than to talk.


Two goals for the summer

At the training centre "Ciudad Real Madrid" at Valdebebas in the north east of the city the players can concentrate on the job. Media obligations are infrequently incurred. But what Khedira said in the autumn during a stay in Germany remains valid: "Real Madrid is the biggest club in the world and I have a coach who backs me up. I am very, very happy and when I play I always bring my best performance." Otherwise it's just an ordinary football team like many others. It may have a Cristiano Ronaldo in its ranks, one of the world's superstars but who is, day to day "not reserved, not insular but rather something of a joker."


One of only a couple of players to show the usual
commitment and effort against France



A growing self-confidence from this young footballer who is now at one of the best clubs in the world will also benefit Joachim Loew. In the match against France (1-2) Khedira impressed in defeat with a powerful and committed performance. The year 2012 is to be as memorable as 2010 was. For friends and admirers on Facebook he posted a message on New Year's Eve on his Facebook page: "I plan to be there on two dates: May 19 and July 1 and I will do my best." If he manages it Khedira will be in the final of the Champions League and the final of the European Championship, of course. He plays, after all, in a club with a crown on its crest - noblesse oblige.

______________________________________________________

Translator Notes:

Mourinho had actually noticed Sami Khedira much earlier than the 2010 tournament. He told him he'd been observing him "for some time" when they met at Valdebebas and Mourinho personally offered him the chance to come. How Sami Khedira made it in and out of Valdebebas in July of 2010 without being noticed is "a secret" - and although Sami was nervous and had even brought a translator "he wasn't needed. Mourinho convinced me in two minutes."

As an aside, the writer is correct when he notes that simply to be noticed at all was considered an honour by both Germans. Khedira has said that just being invited to meet Mourinho was an honour - and in an interview with Kicker earlier this year Mesut Özil has said that being invited to speak to Mourinho on the telephone was "first of all, for me, a great honour."



They always have each other!



References to disdain in the Spanish press are correct. Khedira was greatly disliked by Madrid's two biggest sports dailies As and Marca who felt he contributed nothing to the attack.

Mourinho on the other hand, after a derby-performance in October of 2010 against Atletico Madrid after which players like Özil (who scored off a free-kick) and Cristiano Ronaldo were celebrated by the press said, when asked which player he thought had performed best on the pitch: "Khedira." He had noted earlier after a match against AC Milan that players like Sami Khedira and Ricardo Carvalho who play "with discipline, who keep the shape of the formation are not given the same attention but they are just as important."


Sami Khedira is Madrid's all-time sole record-holder
for games unbeaten in the Champions League



In the meantime, even Marca have come to appreciate how shaky the Madrid midfield is without Khedira. When he was injured against Malaga before the team had to meet Barcelona, the newspaper was suitably distraught.



All gifs in this piece are by
andriy_7
, who also alerted me to the presence of the article on the website. Thank you Andriy.
.


.